Assalamualaikum,
I've been procastinating on a lot of things lately, not because I was lazy (I think), but I had so many things to do for the past few days since my mock research proposal presentation last week. Syukur, Alhamdulillah. It went well.
The comments from my supervisor and co-supervisor were:
- I had monotonous voice
- I had less confidence when I present something that I don't really know
- I need to read more for better understanding
In summary, I need to polish my skills for the presentation!!!!
But, I am sssoooooooo glad that I didn't have to do many changes for the slide presentation. So, I would like to share here so that I will remember forever, "What are the tips for a good slides of research proposal presentation?
1. A "Table of Contents"
Usually in the thesis, there is a page with this title of "Table of Contents". T
here is no need for this page in the
research proposal presentation. But, you still have to list them out. This is because, the headings and the subheading of the Table of Content will become the title for the slides.
Basically, the list will look like this:
1. Introduction
2. Literature review
3. Problem statement
4. General objective
5. Specific objectives
6. Methodology
7. Dummy tables
8. Expected outcome
9. Gantt chart
10. References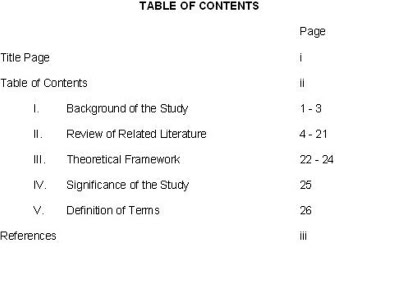 Source: www.professays.com
The slides will be clear to us and also to the audience. It is more organized this way.
2. A picture is worth a thousand words

Almost 70-80% of my slide presentation content were illustrated by figures, photos, tables and charts. Based on my experience while doing Master degree, I realized that the audience came from many different backgrounds. Thus, research proposal should be scientific but at the same time understandable to the audience.
Note:
If we don't want the audience to ask so many questions, then, we should explain everything but keep it simple so that it shows:
i. We know what we are talking about
ii. We look confident enough about our study
iii. We are sure what we are going to do
So, let's put colours and pictures in the slide presentation. :)
Source: Science BS | the slitty eye
3. Dummy tables
During our research methodology course recently, the spekers told us to have Dummy Tables in the research proposal so that, we really know what are the datas that we should collect in our study. From my understanding, a dummy table is an empty table of the results but it is the table as if you want to put in the thesis later on. I think it is good to have these dummy tables. It showed not only what data to be collected but also, the statistical tests we will be using to analyse our data too.
Source: wikipedia.
I think, that's all for now.
Hope I'll remember always the tips that I have shared here. Arasso...
:)